Battle Realms
is a real-time strategy game released by
Ubisoft
and
Crave Entertainment
in 2001, developed by
Liquid Entertainment
.
With a strong Japanese theme, the game's "Clans" are composed of the Serpent, Lotus, and Wolf clans, with rumors of an ancient Dragon clan.
There are two distinct storylines that take place in over 36 scenarios. Each sides core campaign has 14 scenarios, but gameplay choices will affect the path of the game.
During your campaign you can have up to six different Zen Masters to help you. Provided you keep them alive, they will carry over from mission to mission. Once the Keep becomes available to you, you will no longer have to worry about keeping them alive.
The campaign starts off as Kenji returns home and must decide whether to revive the great legacy of the noble Dragon Clan, or to simply follow in the footsteps as his corrupt predecessors by leading the insidious Serpent Clan. Regardless, Kenji will find himself up in arms against the Wolf Clan, the Lotus Clan, and perhaps even the horde his ancestors thought they escaped.
You can learn more about the History of Battle Realms' here.
Setting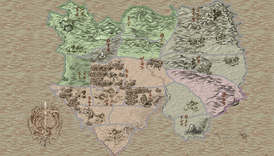 The entire story of Battle Realms takes place on an unknown continent, which is quite often referred to by many players as "Battle Realms Island". There are quite a few locations that can be accessed through the campaign of "Kenji's Journey", or by playing "Battle Realms: Winter of The Wolf" and playing through "Grayback's Journey".
Ad blocker interference detected!
Wikia is a free-to-use site that makes money from advertising. We have a modified experience for viewers using ad blockers

Wikia is not accessible if you've made further modifications. Remove the custom ad blocker rule(s) and the page will load as expected.